Note: If you are a gallery, member of the media, or other person interested in a text and/or graphical presentation of this general information and profile, please call or email for a .pdf version. Also, call with your word count requirements if you need a condensed version of this information.
General Information About the Artist

John Passaro paints and draws landscapes from life and then paints larger, more-developed works from the studies; although, at this stage in his career and ongoing development, he is, as he says, ". . . more interested in drawing than in painting as far as gathering information" for landscapes. Also, increasingly over the last few years, he paints his own expressive brand of still lifes, portraits, and less-representational work. His artwork is held in five corporate collections in Colorado and literally hundreds of private collections all over the United States, as well as places as far away and as diverse as Canada, Mexico City, Germany, Scotland, and the Dominican. "Seriously . . . a castle in Bavaria, a really nice home overlooking the river in Edinborough, and the presidential palace in the Dominican Republic. The only thing I know for sure after all these years is that I never know who's going to walk through the door and buy a painting."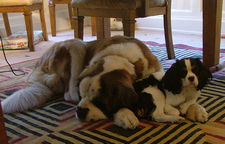 John lives in the Park Hill neighborhood of Denver with two of his three children (the oldest is studying family law after serving in Pearl Harbor and Japan in the U.S. Navy), and a big, calm St. Bernard dog whom they named Heidi and who now, compliments of his daughter, has a little Cavalier (right) for a companion. "I don't get much work done in my home studio. Sometimes, after midnight. Maybe."
Beyond his family and painting, John enjoys his hobbies: golfing and railroads. "Actually, golf is an up-side-down activity just like painting. The easier you hit the ball the farther it goes, you hit down on the ball to make it fly, the harder you try the less you accomplish, and, especially, the more you think the worse things get. Like I said, just like painting. Now railroading is different. You never have a bad day with trains. I spend time when I can modelling structures and rolling stock on the dining room table and working on the actual layout, which, in our new home, is half outdoor and half indoor.You can guess that scenery and weathering are my strongest skills."
The Value of Craftsmanship
John Passaro has a lifelong commitment to the craftsmanship side of art. He studied at the old Rocky Mountain School of Art in Denver, spent countless hours as a teen-ager drawing at the Chicago Art Institute for a summer and fall, and eventually studied at the Museum of Fine Arts School in Boston where he spent many hours copying paintings in the Museum's permanent collection in the traditional manner and learning the traditional skills. He is proud to mention that to this day he can take a painting from the ground up, stretching raw linen, boiling rabbit skin glue as size in double boilers, and making his own gesso in the same manner (and with many of the same materials) as in the Renaissance, however he does say that, "Fortunately for me, I have better things to do these days." At one point he had memorized Ralph Mayer's book on materials and techniques, and he still knows and understands the composition of every paint and medium around; you don't want to get him started on materials unless you have a little time on your hands. He learned to paint outdoors at the Art Students League of Denver. "I relied on the patience of my mentor without mercy. He said most students have to paint five hundred paintings to get to the point where you might know what you're doing. That was me, and then some, and the man critiqued every one of them. Nevertheless, the process of learning to paint from life outdoors was easy compared to what comes next. You learn how to paint, then it gets really challenging because you got to figure out what to do with it. You overcome what you think is the most difficult obstacle, then you say, now what? Good thing no one mentioned that."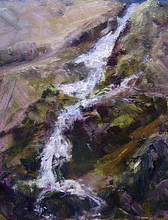 Expressive Realism

As the article he wrote about Expressive Realism suggests (please select the link in the banner above if you'd like to read the article), John Passaro has clear ideas about what Expressive Realism means. "To me, it's the chance to explore the full range of possibilities in a painting, because Expressive Realism can combine the best of both representational art and non-representational, abstract art. It's possible to reach for the full character of a painting without sacrificing the subject. I think expression by itself, regardless of how emotional or personal it appears, can be less effective without the checks and the balances of realism. It can fall to decoration. On the other hand, realism by itself, especially the polished kind, risks saying more about how accomplished the artist is than it says about the subject matter. "I see no reason to limit myself to one side of the continuum. Personally, I usually reach for both, an expressive character and a recognizable subject, but depending on the painting the subject can be more recognizable or less recognizable. The great thing about Expressive Realism is that it lets artists give full scope to their creative selves and keep in touch with their viewers at the same time."
Continuing Exploration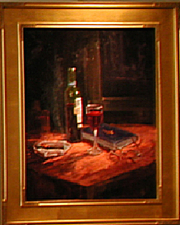 Expressive Realism is not necessarily a style or a way of painting; it is more a commitment and an attitude, a willingness to take chances. Because of this, artists who paint in this manner seldom feel they have stopped learning and growing. They work the fine lines between craft and mechanics, between expression and self-indulgence. It isn't unbridled freedom. "The first and most important check on any artist comes in working from life. My paintings start observing real people, places, and things in real time. I don't think the human imagination, including mine, is smart enough or deep enough to invent the infinite variety of nature. Meaningful work starts with looking closely at your subject as you paint or draw. The balance comes in studying and mastering the elements of the visual arts . . . line, value, shape, design, color, brushwork, for example. That's your foundation. That's your good news. The bad news is you better forget what you learn.
When asked about balancing success with experimentation, Passaro says, "There's not much to say about that kind of balancing act: it's one of those things where we know it when we see it. When I hear people say, I don't know much about painting, but I know what I like, I think they actually know more than they think they know. It's better to know more than you think you know than less . . . especially for artists. I remember overhearing a group of students talking about a man at an art show who had just finished guest lecturing, on art, and they were saying they needed to study with that artist, that it seemed to them (the students) that he must know a lot more than he was telling in the lecture; I didn't say anything, but I had been thinking during the lecture that he knew a lot less than what he was telling. Personally, my best friends are artists who realize they don't know as much as they or other people think they know. I spend about a third of my time painting seeing how far I can take things past what I already know.The magic in a painting happens in the moments when I forget what I know, stop thinking about how I shall be received, forget about the subject matter, and let the brush do the work."

(c) 2012 John Passaro and Cabin Creek Studios
All rights to the text and pictures on this website are reserved